Nibiru
From Wikipedia, the free encyclopedia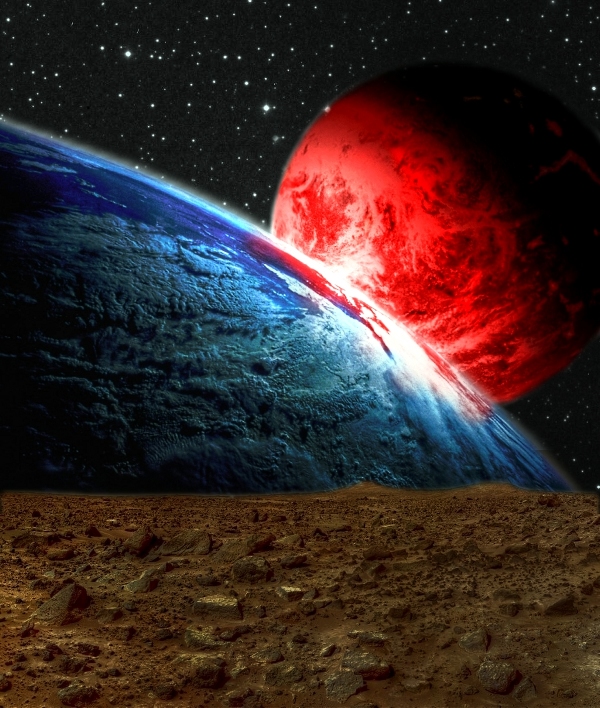 Nibiru, to the Babylonians, was the celestial body or region sometimes associated with the god Marduk. The word is Akkadian and the meaning is uncertain. Because of its use in opposition to the phrase itebbiru "who used to cross," Landsberger and Kinnier Wilson suggest that it refers to a stationary point in the heavens.1 In a reconstruction of Tablet V of the Enűma Elish by Landsberger and Kinnier Wilson, the word ni-bi-ri (variant: ni-bi-ru and ni-bi-a-na) is translated as "pole star."1 The authors add in the footnotes that "Applied to Marduk, there is no question that in the late periods n?beru is a planet, whether Jupiter or Mercury" however for the referenced translation of Tablet V, "pole star" is used.1
According to Zecharia Sitchin and Burak Eldem, Nibiru in Sumerian records referred to an undiscovered planet, but these claims are not thought to be accurate by others in the fields of archaeology and astronomy.
Notes
* Note 1: "The Fifth Tablet of Enuma Eliš", B. Landsberger and J. V. Kinnier Wilson, Journal of Near Eastern Studies: Vol. 20, No. 3. (Jul., 1961), pp. 174-176.
Outside links:

Planet X
Planet X is a large hypothetical planet with an orbit beyond that of Neptune. The X mentioned in the name represents an unknown, as opposed to the Roman numeral for ten; at the time of its conception there were only eight known planets in the solar system. Its existence, first as a ninth planet, then, after 1930, as a tenth, and once again a ninth planet after Pluto was demoted in 2006, was postulated on the basis of apparent discrepancies in the orbits of the gas giants, especially those of Uranus and Neptune. Those discrepancies have largely been resolved by modern measurement, removing the basis for Planet X.
From Wikipedia, the free encyclopedia

General Meanings of Occurrences Outside Astronomical Texts
Word meaning, of course, is determined by context. "Nibiru" (more technically and properly transliterated as "neberu"[5]) can mean several things. I have underlined the form of Nibiru for the reader:
"place of crossing" or "crossing fee" – In the Gilgamesh epic,[6] for example, we read the line (remarkably similar to one of the beatitudes in the sermon on the Mount): "Straight is the crossing point (nibiru; a gateway), and narrow is the way that leads to it." A geographical name in one Sumero-Akkadian text, a village, is named "Ne-bar-ti-Ash-shur" ("Crossing Point of Asshur"). Another text dealing with the fees for a boatman who ferries people across the water notes that the passenger paid "shiqil kaspum sha ne-bi-ri-tim" ("silver for the crossing fees").
"ferry, ford"; "ferry boat"; "(act of) ferrying" – For example, one Akkadian text refers to a military enemy, the Arameans: "A-ra-mu nakirma bab ni-bi-ri sha GN itsbat"[7] ("The Arameans were defiant and took up a position at the entrance to the ford [gate, crossing point]"). In another, the Elamites are said to "ina ID Abani ni-bi-ru u-cha-du-u" ("[to] have cut off the ford [bridge, crossing way] of the river Abani").
I think the "root idea" of the nibiru word group and its forms as meaning something with respect to "crossing" is clear, and so we'll move on.[8]
Source - Micheal Heiser
Also - Sitchin is Wrong