El 'Araba el Madfuna - The Osirian at Abydos
On the west bank of the Nile, 90 miles (145 km) north of Luxor, lies the Temple of Abydos near the small village of El 'Araba el Madfuna. The Temple dates to around 3150 BC. This area, sacred to Osiris, was a powerful location to those who believed in the next world. The ancient Egyptians said that at sunset, the area looked like a golden staircase leading to the afterlife.
It was here that Osiris, after being killed by his brother Seth, returned to power. Seth had killed Osiris and scattered the pieces of his body all over Egypt. Osiris' wife and sister, Isis, gathered the pieces and put them back together, thus restoring life to her husband. It was said that Abydos was where the final piece, his head, was buried, and so it was here that Osiris was brought back to life to become the judge of the dead and lord of the netherworld.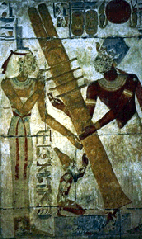 The Raising of the Djed
by Moira Timms
The Djed is a pillar, a type of the World Tree, representing stability, continuity, and regeneration. The Festival of The Raising of the Djed dates back more than 5,000 years to predynastic times--as does the Egyptian Book of the Dead which identifies the Djed as both the backbone of Osiris and the support and backbone of the universe. The Djed, however, is more than just an object; it is a mythic complex that existed long before Osiris emerged from the dark realm of the collective unconscious.