Extrasolar Planetary Systems
..
Moon containing life orbiting a giant gas planet
within the habitable zone of an unknown star
Extra Solar Planets
by H Graem
The first confirmed discovery of extrasolar planets (planets around another star - also called exoplanets) occured in 1992. Radio astronomers Aleksander Wolszczan and Dale Frail announced the discovery of planets around a pulsar. In 1995, Michel Mayor and Didier Queloz of the University of Geneva announced the first definitive detection of an exoplanet orbiting an ordinary main-sequence star (51 Pegasi). This discovery was made at the Observatoire de Haute-Provence and ushered in the modern era of exoplanetary discovery.
Technological advances allowed astronomers to detect exoplanets indirectly by determining their gravitational influence on the motion of their parent stars. The planets are usually discovered by measuring the change in Doppler shift of the star's light, resulting from the star orbiting a common center of mass with a companion planet.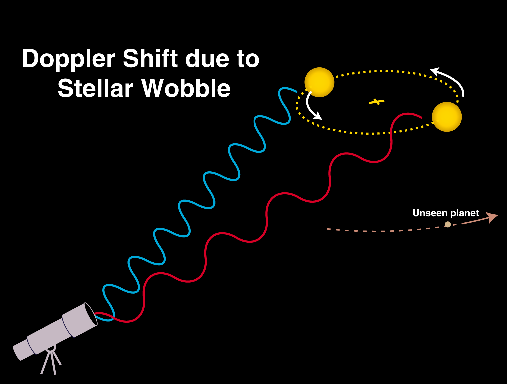 Several extrasolar planets were detected by observing the variation in a star's apparent luminosity as a planet passed or transited in front of it. The occasional transit of Venus across the sun is an example from our own Solar System.
At the end of 2007, a little over 220 exoplanets had been discovered around stars near the sun. Most of them are huge and hot gas planets (similar or larger in mass to Saturn or Jupiter) orbiting very close to their sun.
Given the current early stage in planet searching technology, this preponderance of giant planet discoveries in close solar orbit should not be surprising. These would be the most noticeable planetary bodies given the degree of sensitivity of the available instruments.
As sensitivity increases in the future and new methodologies become common, the average range in planet distance from the parent star should increase and the average observed planet size should decrease. Astronomers have recently discovered that terrestrial planets might form around many, if not most, of the nearby sun-like stars in our galaxy.
SOURCE: http://www.visions2200.com/SpaceExtraSolarPrime.html