The Giant of Atacama
Cerro Unitas, Atacama Desert, Chile
-19° 56' 56.00", -69° 37' 59.00"
..
Atacama Giant (Spanish: Gigante de Atacama)
The Atacama Giant (Spanish: Gigante de Atacama) is a large anthropomorphic geoglyph in the Atacama Desert, Chile. Located at "Cerro Unitas", this is the largest prehistoric anthropomorphic figure in the world with a height of 86 meters and represents a deity for the local inhabitants from 1000 to 1400 AD.
..
Credit: Rene de la Fuente (Click for larger view)
The lines at Nazca aren't the only landscape figures this region boasts. 850 miles south of Nazca is perhaps the world's largest human figure, etched into the side of Solitary Mountain. The Giant of Atacama at Cerro Unitas is an incredible 393 feet high and is surrounded by lines similar to those at Nazca. In fact there is a copy of this image at Nazca, although the only place I have seen it mentioned is in Erich von Daniken's "Arrival of the Gods".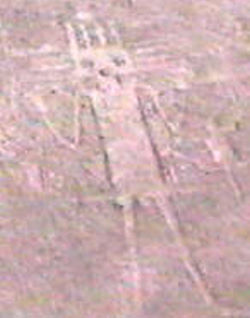 ..
Credit: Bernina_ch (Click for larger view)