Fossil Evidence on Mars?
Spirit :: Panoramic Camera :: Sol 016
.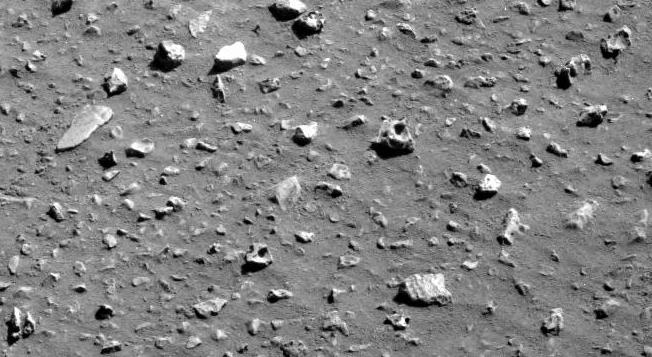 Image Courtesy Nasa/JPL
Intriguing pieces of "rock" on Mars
Without having to use much imagination, there are several pieces of rock that leap out as "unusual". In fact the whole image looks like a field of fossil bone fragments. Any one who has ever gone fossil hinting here on Earth would recognize this immediately as an awesome opportunity to hunt specimens.
Below is the same image with circles around a few of the more interesting pieces. The green circles represent what appear to be animal skulls, especially the lower of the two. The white circles show pieces that are both round, and curved, appear hollow or in the case of the sqaurish one show several holes and look porous. The yellow circle are a few less obvious. You can look over the original and you will spot many more pieces that look like bone fragments.
Proof positive? Not yet... but if I was up there this would be one of my first stops to hunt for specimens.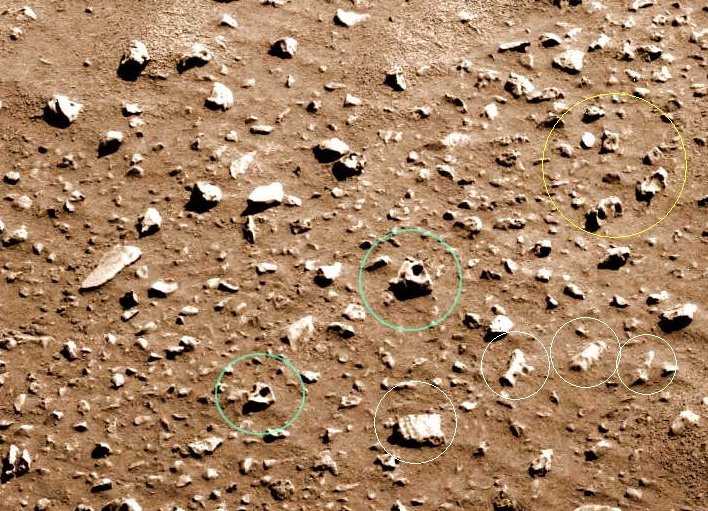 Image Courtesy Nasa/JPL
NASA Image Reference...
Martian Rover "Spirit" Sol 016 Image # 2P127793693EFF0327P2371L7M1
NASA Rover Gallery Page Sol 016 Spirit
To see more MARS photos that are coming in daily from both Martian Rovers still operating on Mars see here;
Spirit: All 86,638 Raw Images - 46 new images since 09/17/2006 08:05:55 PST
Opportunity: All 77,115 Raw Images - 67 new images since 09/16/2006 12:16:47 PST