Lunar Orbiter Missions
ITT Space Systems Division
.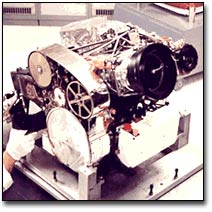 Image Courtesy ITT
The company that made the Lunar orbiter Cameras makes an interesting statement:
Excerpt One:
Image Capture—How The System Worked
"Once on orbit above the Moon's sunlit side, each Orbiter took pictures via the photographic system's 610 mm high-resolution lens, and via an 80 mm wide-angle medium-resolution lens. Both lenses placed their frame exposures on a single roll of 70 mm film. During exposure, the system moved the film to prevent image blur as the lunar surface sped by below.
On a typical Lunar Orbiter mission, the photographic system provided high-resolution pictures of 4,000 square miles of the Moon's surface with enough clarity to show objects the size of a card table. At the same time, medium-resolution photographs covering 20,000 square miles could be made with overlap for stereo viewing and analysis of surface topography.
Photos were processed automatically by the Orbiter's photographic system as the spacecraft orbited the Moon's dark side. This operation was performed by a KODAK BITMAT diffusion transfer process using 'dry' chemistry. A high-intensity light beam then optically scanned the photographic prints, and the images were transmitted to receiving stations on Earth.
The 1600 pictures captured in total by the five Lunar Orbiters using the ITT photographic system enabled photogrammetrists at NASA and the U.S. Government's Defense Mapping Agency to create accurate maps of the Moon's surface. From these photos, maps, and other lunar data, NASA identified the Sea of Tranquillity as the final landing site for the Apollo 11 mission in 1969." - SOURCE: ITT
Excerpt Two:
About the Lunar Orbiter missions
"Launched in 1966 and 1967, all five missions Lunar Orbiter were successful. The missions collectively photographed 99% of the Moon's surface with a resolution of 60 m ground resolution or better. The first three missions, dedicated to imaging 20 potential Apollo landing sites, were flown at near equatorial orbits as close as 22 miles above the lunar surface. The fourth and fifth missions were devoted to broader scientific objectives, and were flown in high altitude polar orbits." - SOURCE: ITT