The Meister Print with Crushed Trilobite
Article from the Creation Evidence Museum
---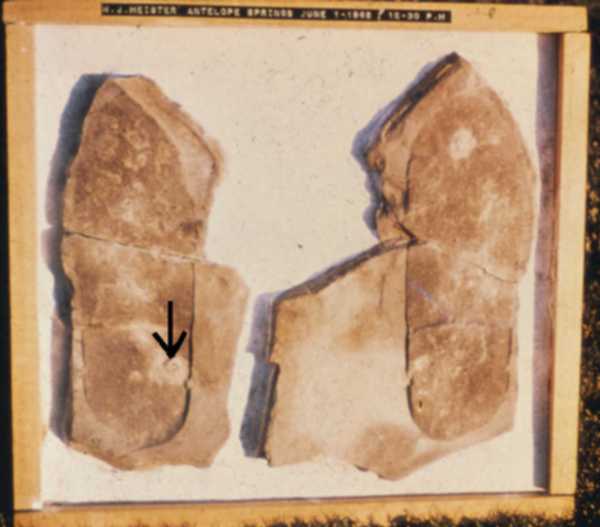 The "Meister Print"
Photo provided by Clifford Burdick, 1982.
Arrow points to one of the trilobites in the specimen. Click for larger view.
The oldest fossil footprint yet found was discovered in June 1968 by William J. Meister on an expedition to Antelope Spring, 43 miles west of Delta, Utah. He was accompanied by his wife and two daughters, and by Mr. and Mrs. Francis Shape and their two daughters. The party had already discovered several fossils of trilobites
when Meister split open a two-inch-thick slab of rock with his hammer and discovered the print. The rock fell open "like a book." revealing on one side the footprint of a human with trilobites right in the footprint itself. The other half of the rock slab showed an almost perfect mold of the footprint and fossils. Amazingly the human was wearing a sandal! The sandal that seems to have crushed a living trilobite was 10 1/4 inches long and 3 1/2 inches wide; the heel is indented slightly more than the sole, as a human shoe print would be.