Endymion Crater
Dec 17th 2005
.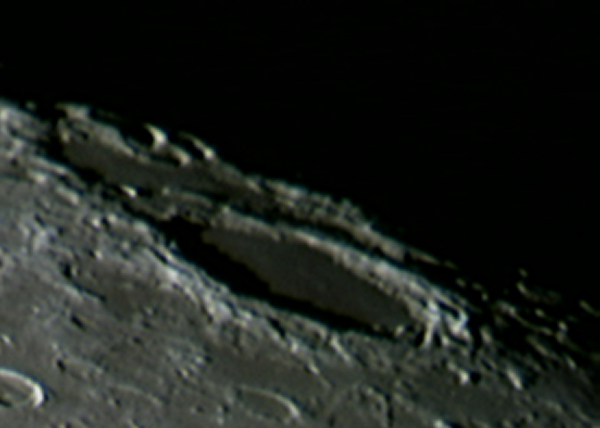 Click on image for brighter version
Comments:
This clipping is from an image taken with a 10" telescope by Mike's Astro Imaging in the UK. The photo and our clips are copyrighted and all rights reserved. This image is used here by permission.
If you look at the image above there are several really interesting objects that stand out. On the bottom right area that is obscured by cloud in Lick 2 and black marks in Lick 1 you can clearly see the tower and the dish antenna. (See below for details). The upper left of the crater, which is also obscured in the lick photos shows three large round structures. There is another one in the crater just below the three. The coloring of the objects is a brownish tint in contrast to the bluish green tint of the surrounding rock.
- Zorgon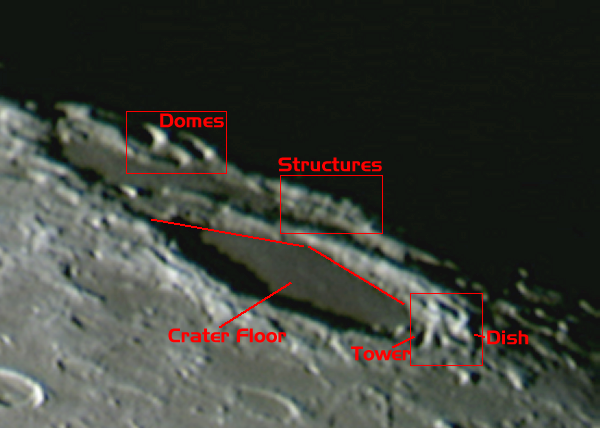 Click on image for gray scale version
Comments:
To the center and above (behind) the crater you can see several interesting bridge and tower like structures. Most peculiar is the crater floor!! Look at the smooth featureless texture and note the two sides that you can see of the floor. The lines above show the part I am referring to. Compare this image to the gray scale gamma adjusted one by clicking on the picture above.
Now then here is the kicker!!! The Lick Observatory photos we have are some of the best moon images around, taken with a 36" telescope.
Mike used a Skywatcher 250px 10" reflector!!! You can view his setup and details here
The full image will be available on page two after we discuss the second area of interest. You will then be able to compare the quality of Mike's 10" scope with the 36" Lick Observatory scope. It is also interesting to note that there were never any Moon photos issued taken with the 200" Mt Palomar scope. But just from the above clips you can see the obvious difference.