Pulsed Laser Vulnerability Test System (PLVTS)
PLVTS is a suite of lasers and beam directors whose fundamental mission is to support susceptibility and vulnerability testing of components, systems, and materiel of modern US tactical weapon systems. It consists of a device trailer that houses the control room, laser devices, laser beam diagnostics, and a 50-cm static output telescope. There is a 60-cm pointer/tracker beam director that is used for multi-wavelength dynamic target illumination.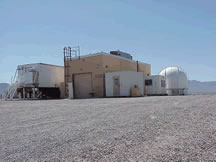 One of the lasers is a closed-cycle, electric discharge, pulsed CO2 device operating at 10.6 microns that can deliver up to 1200 Joules per pulse at repetition rates of 1 to 30 Hz. This laser is the highest energy pulsed CO2 system in the United States. The confocal unstable resonator accepts an optional grating tuned injection laser for gain switch spike reduction and mode stabilization enhancement.
PLVTS supports a full complement of beam diagnostic instrumentation that measures critical output performance parameters of the lasers, as well as selected parameters at the target plane. An adjustment of the optical train directs the 10-cm square beam into the neighboring test cell for laboratory use.