Bringing the Elwha River back to life
By Mark Yuasa
Seattle Times staff reporter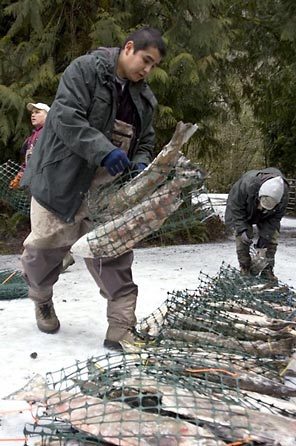 Coho carcasses have been planted in the upper reaches of the Elwha River to stimulate the local food chain.
Almost 100 years ago the Elwha River on the northern Olympic Coast had wild chinook salmon topping 100 pounds.
Then came the modern industrial era, and in 1913 this once pristine river that hosted all five salmon species was blocked by the first of two hydroelectric dams, leaving no path for fish migration to the upper 38 miles of mainstem and more than 30 miles of tributary habitat.
Along with the monster kings, other salmon populations above the Elwha dams have long since vanished, but a minuscule salmon run still knocks on the base of the lower dam each year.
State Fish and Wildlife biologists calculate that fewer than 5,000 wild fish return each year, which is 1.3 percent of its historic level.
As part of the Elwha River habitat restoration plan, the Lower Elwha Klallam tribal staff placed more than 600 frozen, spawned-out coho in the upper river back in January. The carcasses came from the 2006-07 returns to the tribe's hatchery.
Green mesh bags, holding two coho carcasses each, were staked into streambeds above one of the river's two fish-blocking dams. The bags will be removed once the fish decompose.
"We are looking at how it affects the freshwater food web, and is it stimulating algae growth and creating food for invertebrates," said Sarah Morley, the National Oceanic and Atmospheric research ecologist in Seattle who developed the project. "It [salmon carcass placement] is a new approach to restoration that has been overlooked in the past, and this subsidizes nutrients that is lacking from the system."
These spawned-out carcasses are a major contributor to the river's food chain web, including fish and other wildlife critters and aquatic bugs. They also generate nutrients like nitrates, carbon and phosphorus in the river.
"In the Elwha salmon haven't been in the upper river for almost 100 years, and the river is relatively infertile, so this is an important start to see how the river responds," said Mike McHenry, a tribal habitat program manager. "The study will give us an idea on how the whole aquatic ecosystem works with this sort of stimulation."
Fisheries officials will investigate the benefits of these carcasses to the river environment before dams are removed after 2010.
This type of placement of salmon carcasses in other Puget Sound rivers and creeks has played an important role in enhancing watersheds and restoration of salmon populations.
The 108-foot Elwha Dam and 210-foot Glines Canyon Dam were built to provide hydroelectric power to Port Angeles. The dams didn't have fish ladders, preventing salmon from migrating upriver to spawn.
The dams are owned by the federal government, and Olympic National Park is the leader in removing them. The total cost of the project is estimated at $308 million.
SOURCE: