AURORA / SENIOR CITIZEN
..
Excerpt 1
Reports of plans for a high-performance piloted replacement for the SR-71 date back more than a decade. In 1979 it was reported that a:
"... Mach 4, 200,000-ft.-altitude aircraft that could be a follow-on to the Lockheed SR-71 strategic reconnaissance vehicle in the 1990s has been defined by the Air Force Aeronautical Systems Division and Lockheed."
As previously noted, reports of the existence of a successor to the SR-71 surfaced repeatedly during the debate over termination of the SR-71. Subsequent observations of mysterious aerial phenomena have been connected with the 1988 reports that Aurora was a Mach 6 stealthy reconnaissance aircraft that was being developed to replace the SR-71. - Global Security
Excerpt 2
According to another report, by mid-1992:
"... Aurora was being flown from a base in the Nevada desert to an atoll in the Pacific, then on to Scotland to refuel before returning to the US at night. Specially modified tanker aircraft are being used to top up Aurora's tanks with liquid methane fuel in mid-air... The US Air Force is using the remote RAF airbase at Machrihanish, Strathclyde, as a staging point... The mystery aircraft has been dropping in at night before streaking back to America across the North Pole at more than six times the speed of sound... An F-111 fighter bomber is scrambling as the black-painted aircraft lands, flying in close formation to confuse prying civilian radars." - Global Security
Excerpt 3
In early 1992 it was reported that:
"... RAF radars have acquired the hypersonic target travelling at speeds ranging from about Mach 6 to Mach 3 over a NATO-RAF base at Machrihanish, Scotland, near the tip of the Kintyre peninsula, last November and again this past January."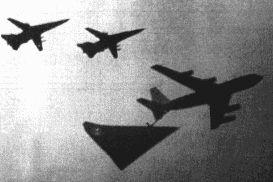 It was recently reported than on 27 September 1995 David Morris of Walsall, Cornwall UK took a picture of a triangular shaped plane being refueled by a KC-135, and flanked by a pair of F-111s. The unknown aircraft appeared to be about three-quarters the size of the KC-135. This picture has been widely distributed. However, the "refuelling" picture is a hoax -- it was montaged by Bill Rose for the October 1995 issue of Astronomy Now (UK) magazine. There, it is captioned "A simulation of the refuelling of the top secret 'Aurora'. Photo composition by Bill Rose."
SOURCE: http://www.globalsecurity.org/military/systems/aircraft/aurora.htm