Red Rain of Kerala
© 2006 by Louis Godfrey, Ph.D., Mahatma Ghandi University, India.
Originally posted by mikesingh at ATS Post ID4274058
"I think the universe must be teeming with sentient life... sooner or later we will make contact with extra-terrestrial intelligence." - Prof Wickramasinghe
"Humans will never be able to detect extra terrestrial life forms as long as they cling to present scientific paradigms and beliefs." - Kaalchakra
I would like to clarify that this is not about advanced ETs civilizations. It's not about their purported space ships capable of interstellar voyages through 'worm holes' or even interdimensional travel and so on. It's about evidence of fundamental extra terrestrial life forms that have been discovered and studied scientifically. The evidence that life may be universal is being presented here in brief.
But could this be construed as incontrovertible evidence or final proof of the reality of extra terrestrial life? It could be mentioned here in passing that what we construe as the basic requirements of 'life' may not be so. Much of such alien 'life' may be beyond our scientific templates and knowledge on which we base our deductions.
Let's take a look at what we've found and the results after scientific analyses. The first is, as usual, from the LANL archives.
The Mysterious Red Cells Of Kerala: Aliens Life Forms?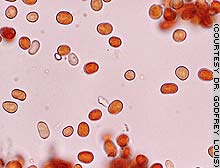 Courtesy: CNN
As bizarre as it may seem, the sample jars containing cloudy, reddish rainwater in Godfrey Louis's laboratory in southern India may hold... aliens!
In 2006, Dr Godfrey Louis, a solid-state physicist at Mahatma Gandhi University, published a paper in the prestigious peer-reviewed journal Astrophysics and Space Science in which he hypothesizes that the samples taken from the mysterious blood-colored showers that fell across the Indian state of Kerala in the summer of 2001 contain microbes from outer space.
Specifically, Louis has isolated strange, thick-walled, red-tinted cell-like structures about 10 microns in size. However, though dozens of his experiments suggest that the particles may lack DNA yet they reproduce plentifully, even in water superheated to nearly 600 deg F. (The known upper limit for life in water is about 250 deg F).
So how does Louis go about explaining this phenomenon? He speculates that the particles could be extraterrestrial bacteria adapted to the harsh conditions of space and that the microbes hitched a ride on a comet or meteorite that later broke apart in the upper atmosphere and mixed with rain clouds above India.
If his theory proves correct, the cells would be the first confirmed evidence of alien life and, as such, could yield new clues to the origins of life on Earth.
"Are these cell like particles a kind of alternate life from space? If the red rain particles are biological cells and are of cometary origin, then this phenomena can be a case of cometary panspermia (Hoyle & Wickramasinghe, 1999) were comets can breed microorganisms in their radiogenically heated interiors and can act as vehicles for spreading life in the universe."
Strangely, this episode is being under-reported. A massive investigation into this "red rain" will probably settle the question whether extraterrestrial life exists, but why is this not happening?
Link to the papers of Dr Godfrey Louis which are available in the Los Alamos National Laboratory (LANL) archives

Extraterrestrial Life" in Red Rain of Kerala, India
Over several months, Dr. Louis began experimenting with different temperatures to see if the cells would respond. As the temperature rose, he saw more ...
newswire.pro/red-rain.htm
Red Rain of Kerala, India Video
Horizon: We Are The Aliens (BBC 2006)
http://quicksilverscreen.com/watch?video=32533