Added by Pegasus:
For those who can read German here are two fantastic sites with pictures of all sorts of projects...

So it Begins: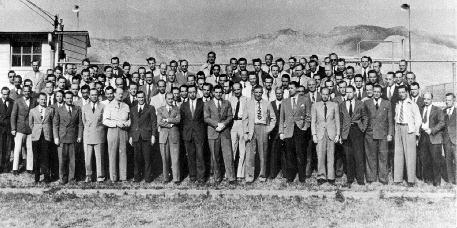 After the war, 118 German rocket scientists worked together at Fort Bliss, Texas.
(U.S. ARMY AVIATION AND MISSILE COMMAND)
"Intelligence and government officials faced a delicate moral quandary in 1945—whether it was worth it to give American homes to men who had invented weapons to kill American soldiers, men who in some cases subscribed to beliefs that hundreds of thousands Americans had died to eradicate. In the end they decided it was, if these men could help the United States defeat the Soviets." - Christine Gibson is a former editor at American Heritage magazine.
To follow the chronology of events from 1945 to the present activities in Antarctica see these two pages;
To understand what is going on in Antarctica the best way is to explore the "back doors" If there are any secret projects going on, it is unlikely we will get direct evidence, but there are many indirect sources that when assembled into a bigger puzzle, begin to paint a picture. The above pages are an ongoing collection putting the pieces of the puzzle into ti,eline perspective. It is a work in progress but many details have already imerged. Below are soem of the key links in seeking pieces of the puzzle.
Pegasus Field, McMurdo Staion, Antarctica
This article is from a casual visitor to the station. Key points mentioned are
- ATS personel get R&R perks; "The regular McMurdo staff used to get this, but not any more. However, the ATS guys still do." - Seth White
- "As an aside, the Navy crews left a LOT of crap around in this area" - Seth White
- Since 1956: "The Navy simply bulldozed their trash into this bay. They would also send out old dozers and equipment on ice floes and dynamite them, leaving the wreckage to sink to the bottom of McMurdo Sound." - Seth White
- Re: Navy Pollution: "But there are still a lot of things left over from the old days that nobody really wants to deal with, and are more or less ignored." - Seth White
Editors Note: This report is from a "tourist" point of view, yet reveals many interesting facts. Pegasus Field is used to land heavy transports on the ice, and also supplies the Russian Vostok Station. Vostok Station was also mentioned in the 1946 Antarctic activities. Seems the Russians are still as active there as well.
Pegasus Field, Antarctica: Scouring Old Wounds 2000 - 2001
This is a modern report of cleanup operations from the military activities in Antarctica, specifically around McMurdo Station, Key points are;
- "In 1994, soil samples from around the station pinpointed six hot spots with at least 10,000 parts per million of total petroleum hydrocarbons, 100 times the maximum allowed in the United States." - Kristan Hutchison
- "The garbage and spilled fuel had been accumulating since the station was established in 1956" - Bill Gilmore environmental manager
- "Already the environmental department has removed 2,000 tons of fuel contaminated soil and 697 drums of fuel, ice and soil from McMurdo in the past two seasons." - Kristan Hutchison
Editors Note: The above major cleanup effort says two things of importance. The first is that major activity has been going on here since 1956; Second, judging by the amount of waste produced daily today there is still ongoing major activity. The sheer quantity of waste, contaminated soil, fuel spills and metal dynamited to the ocean floor is proof of something major taking place. Both these articles mention the Navy as the main players in the region since 1956
Pegasus Field, Antarctica February 20, 2002
Runway Project Clears the Way for Improved Antarctic Airlift
Office of Legislative & Public Affairs
- "The newly developed compaction process protects the runway from sun damage while having the structural strength necessary to withstand the stresses imposed by the landing of large aircraft such as the C-5 Galaxy, one of the world's largest aircraft; the C-17 Globemaster, the newest air force cargo plane; and the older C-141s." - Peter West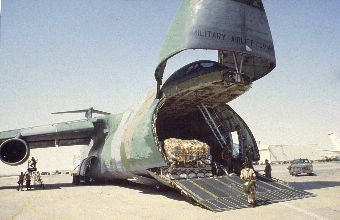 C-5 GALAXY - Courtesy USAF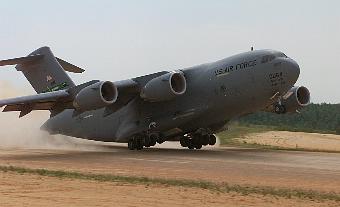 C-17 Globemaster III -Courtesy USAF
Editors Note: Why do they need to bring in so many giant transport planes? At the very least this is indication of major operations in the area. The other really interesting factor is that the company that runs the cargo operations is Raytheon, a major defense contractor
Raytheon Polar Services Company
- "Raytheon Polar Services exists specifically to meet the needs of the National Science Foundation (NSF) Office of Polar Programs. The main function of RPSC is to provide support to the United States Antarctic Program, which is dedicated to sustaining the Antarctic environment and funding scientists who conduct research in Antarctica." - Mission Statement
Raytheon Main Company Site - A major defense contractor
More Afoot in Antarctica;
In Antarctica, the Crud is a Natural Hazard - By Deborah Zabarenko
- This article mentions 3,000 plus personel, and the NASA TIGER mission... (Trans-Iron Galactic Element Recorder) - Note: Original news article has expired
South Pole Death Mystery - Who killed Dr Rodney Marks?
Scientist Rodney Marks died at the South Pole in May 2000. Months later, tests showed he had been poisoned by a lethal dose of methanol...
Editors Note. The story has been since removed from the news site. We have a copy at Pegasus, but permission to reprint is pending
Space Agencies Activities in Antarctica;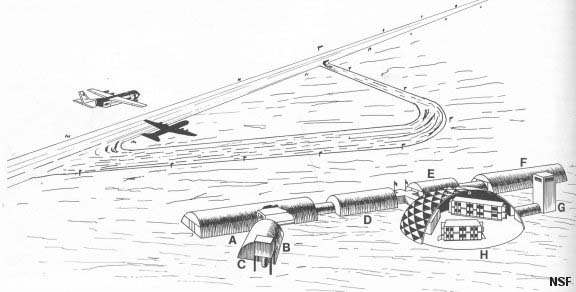 Glass Dome and supporting structures - South Pole
The image above will be significant when we cover the possibilities
of bases existing on the moon
Amundsen-Scott South Pole Station;
- "The original South Pole station, now referred to as "Old Pole", was constructed by an 18-man United States Navy crew during 1956–1957. The crew landed on site in October 1956 and was the first group to winter-over at the South Pole, during 1957. Since the winter conditions at the South Pole had never been measured, the station was built partially underground in order to protect it from the worst imaginable weather."

Werner von Braun
Exploring Antarctica (1967)
.
Credit: NASA
Intrigued by exploration in space and on Earth, Dr. Von Braun participated in an expedition to Antarctica. This photo was made on or about January 7, 1967.
See more about Wernher von Braun and his Antarctica Expedition