Pegasus Research Consortium
The UFO Files
Corroborating Evidence:
The UFO Investigation of the Millennium
James Francis Welsh

Corroborating Evidence is the result of a fourteen year investigation into a series of UFO sightings which took place during December 1999. Author James Welsh became eyewitness to a series of UFO encounters in Glasgow, Scotland which motivated him into making an official UFO report. That began what was to become, 'The UFO Investigation of the Millennium'.

On August 31st 2012, he discovered the hidden presence of a cloaked UFO on NASA's STS103 Hubble servicing mission images. Up until now, anomalies captured on NASA footage have been dismissed as 'ice crystals' and 'space debris'. This object cannot be categorized quite as easily and will leave NASA with a lot of explaining to do!

"James Welsh has left no stone upturned in his quest for the documentation of what he and others saw in the night sky in Glasgow, Scotland in 1999. Corroborating Evidence is the most intensively documented and simply the best piece of work I have read on a UFO sighting. The fact that he also caught NASA with a smoking gun concerning the capture of a cloaked UFO on the STS103 Hubble servicing images is icing on the cake!"
Debra Jayne East- Author, UFO activist and host of Skywatcher Radio Show

"Corroborating Evidence: The UFO Investigation of the Millennium, is well researched and presented. The information is 100% consistent with my research"
Wilbur Allen WWW.UFODC.COM

"Meticulously researched and expertly put together, this fascinating book will be of huge interest to anyone with the slightest interest in UFOs."
Nick Pope - Ministry of Defence UFO Project, 1991 - 1994

"…I've certainly not read a better documented book on UFO sightings…"
Ron Halliday - Author UFOs: Scottish Dimension (1997) UFO Scotland: The Secret History of Scotland's UFO Phenomenon (1998)

"…A fine read and worth your attention for the enormous implications that it suggests."
Malcolm Robinson - Author UFO Case Files of Scotland (Amazing Real Life Alien Encounters) Vol 1 and 2 2009/2011)

"Corroborating Evidence is a great read...well documented and researched. James Welsh definitely has a keen eye and has worked hard to produce a 'super' look at revealing the deceit, lies and misinformation this agency (NASA) had shrouded itself in for decades. Not to mention there is a lot more yet to be revealed behind an organization designed specifically for the military and not the people, entirely controlled by the US Department of Defense. A definite wake up call."
Jari Mikkola - ex NASA contractor

Related Links: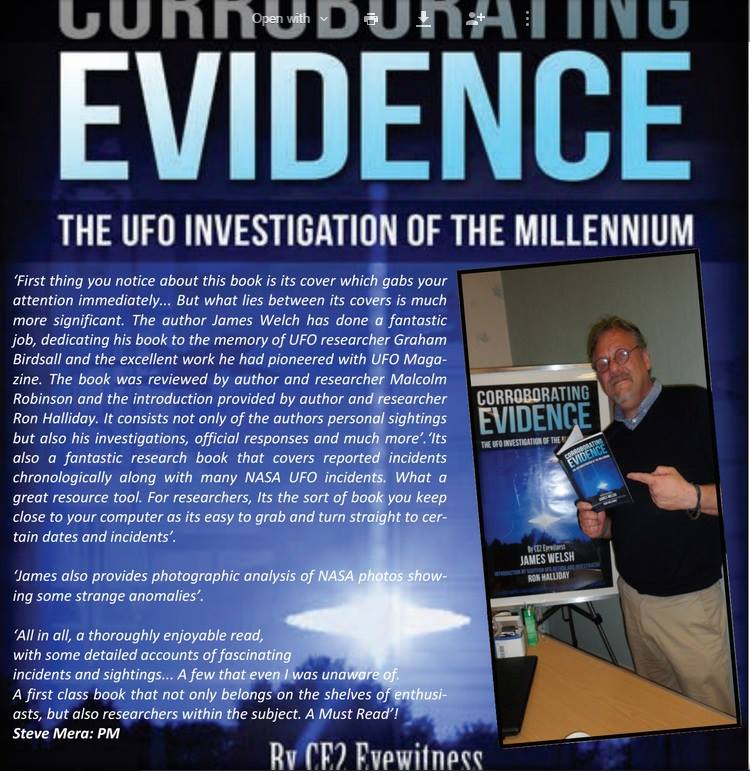 FAIR USE NOTICE: This page contains copyrighted material the use of which has not been specifically authorized by the copyright owner. Pegasus Research Consortium distributes this material without profit to those who have expressed a prior interest in receiving the included information for research and educational purposes. We believe this constitutes a fair use of any such copyrighted material as provided for in 17 U.S.C § 107. If you wish to use copyrighted material from this site for purposes of your own that go beyond fair use, you must obtain permission from the copyright owner.
~ MENU ~