Pegasus Research Consortium
The UFO Files
False UFO Sightings
Vandenberg Rocket Launch Viewed from Phoenix, AZ
September 22, 2005
7:27pm MST
7:35pm MST
7:45pm MST
"This was a way awesome event!" I had no idea what a sight this launch was going to be. It's the first launch from Vandenberg AFB in California I've seen and I just didn't know what to expect. I wasn't sure if I'd be able to see the lower launch trail which was surprisingly bright, then it disappeared for a couple of seconds and then the second stage lit up. After the rocket was lost to sight, the plume from the second stage quickly grew to a very large diffuse glow that filled the sky from the horizon to about 15 degrees up and about 25 or more degrees wide with a brighter streak through the middle where the rocket had passed. As more time passed, the plume from the 1st stage evolved into a giant growing corkscrew that lasted longer than I expected and was still a great object to photograph after it was barely visible my eyes. The bottom photograph seen above is the last of the plume at the location where the engine was shut down. It was visible as a slightly blue glow to the right of Venus which is the very bright short streak near the left edge of the photograph.
Photographer: Rick Scott
Date: September 22, 2005
Camera: Canon EOS 20D digital camera
Lens: Canon EF 70-200mm f/2.8L IS USM
Exposure (top): 8 seconds at f/4, 70mm focal length
Exposure (middle): 13 seconds at f/4, 170mm focal length
Exposure (bottom): 30 seconds at f/4, 70mm focal length
Camera Mode: ISO 100 RAW
Software: Adobe Photoshop CS2 for RAW conversion and image processing
SOURCE: Rick Scott's Natural Images
Vandenberg Rocket Launch
September 22, 2005
This is a Minotaur Rocket Launched from Vandenberg AFB on 2005-09-22 after sunset. This perspective was videotaped at +34.703100,-118.178625 Lancaster, CA. This footage was aired on the local Time Warner affiliate TV station.
Youtube Link
Vandenberg Rocket Launch
September 22, 2005
I shot this video from Sage Ranch Park at the very west end of the San Fernando Valley (near L.A.). I used a Sony VX2000 with teleadapter all mounted on a Bogen / Manfrotto tripod and head. - nblakeh
Youtube Link
Vandenberg MSLS (Minuteman II) Missile / IFT-3 Launch
May 20, 2006
This first image shows the MSLS climbing seconds after leaving missile silo LF-03.
These photos capture the 1999 October 2 dusk launch of an MSLS (Multi-Service Launch System) missile from Vandenberg AFB. The modified Minuteman II sent an unarmed reentry vehicle (warhead) and balloon decoy to the central Pacific as part of the Integrated Flight Test 3 (IFT-3) missile defense test. An anti-missile interceptor vehicle later successfully intercepted the warhead. All images were taken by Brian Webb from Vandenberg AFB while covering the test for public radio
This frame was probably taken during the MSLS second stage burn
and shows the early stages of the expansion of exhaust plume.
m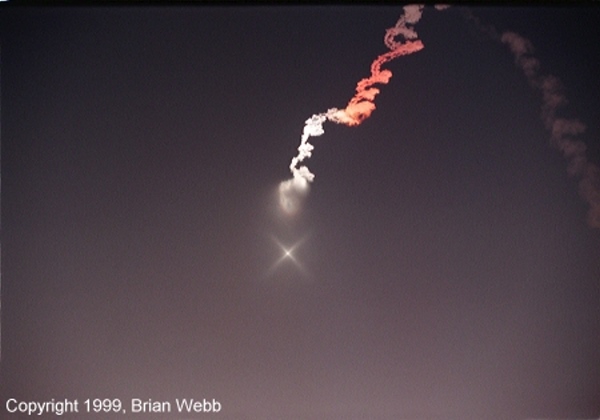 This frame was taken during the MSLS third stage burn and shows the maximum development of the exhaust plume and X-shaped pattern. The X-pattern was a real feature and had been seen on earlier MSLS launches.
Source: Brian Webb - Copyright © 2003-2006 All rights reserved
Vandenberg Pegasus XL Rocket / TRACE Launch
May 21, 2006
This photo was taken shortly after the vehicle suddenly appeared
Photos of the 1998 April 1 dusk launch of a Pegasus XL rocket carrying NASA's TRACE (Transitional Region and Coronal Explorer) satellite from California's central coast. An L-1011 jumbo jet carried the Pegasus XL from Vandenberg AFB to the launch point southwest of Monterey and released it at a height of about 39,000 feet above the Pacific Ocean. The vehicle successfully placed TRACE into orbit.
These photos are good examples of the Twilight Effect, a phenomenon that occurs when a rocket or missile is launched after sunset or before sunrise and the exhaust plume is illuminated at high altitude by the Sun. This series of photos was taken by Brian Webb from TV Hill near the KEYT-TV studios in Santa Barbara, California.
The second photo shows maximum development of the Pegasus XL second stage exhaust plume and contrail.
This image was taken shortly before Pegasus XL second stage cutoff.
At this point the plume looked like a Christmas tree and had fine, feathery internal detail.
The final image shows the aftermath of the Pegasus XL/TRACE launch. It was taken as thick clouds moved in.
Source: Brian Webb - Copyright © 2003-2006 All rights reserved
FAIR USE NOTICE: This page contains copyrighted material the use of which has not been specifically authorized by the copyright owner. Pegasus Research Consortium distributes this material without profit to those who have expressed a prior interest in receiving the included information for research and educational purposes. We believe this constitutes a fair use of any such copyrighted material as provided for in 17 U.S.C § 107. If you wish to use copyrighted material from this site for purposes of your own that go beyond fair use, you must obtain permission from the copyright owner.
~ MENU ~